At Lineat, we are passionate about reducing the carbon footprint of advanced materials. When we envision a net-zero future, we see the important role that materials have in helping build the structures and components that enable more efficient use of resources. One of these is wind turbine blades, and at Lineat, we are looking at the impact of these blades and how we can make green energy even greener.
Wind turbine blades are highly engineered structures that are optimised to convert wind energy efficiently into kinetic energy and electricity. This pushes blades to become bigger and bigger, with the newest blades for a 10MW turbine having a length of nearly 100m and each blade weighing between 35 – 50 tonnes 1,2. That is why carbon fibre is increasingly used in wind turbine blades alongside glass fibre to ensure the demanding stiffness and strength requirements can be met and improve wind turbine efficiency. But the materials themselves can have a heavy impact, so what is the best material to use?
The greenhouse gas emissions (GHG) of the different materials can vary depending on where and how they are exactly produced, but generally are well documented:
GHG virgin carbon fibre: 25 – 80 kg CO2eq/kg (assume 30 kg CO2eq/kg)3,4
GHG virgin glass fibre: 1.7 – 2.5 kg CO2eq/kg, (assume 2 kg CO2eq/kg)5,6
GHG reclaimed carbon fibres: 1.5 – 5 kg CO2eq/kg (assume 3 kg CO2eq/kg)7,8
GHG epoxy resin: 4.7-8.1 kg CO2eq/kg (assume 7 kg CO2eqeq/kg)9
Carbon fibre is stronger and stiffer than glass fibre but has a much higher embodied energy. To put that in perspective, let's compare it with the expected growth in wind energy. According to the Global Wind Report 202310, the global installed wind turbine capacity currently is 906 GW, which is expected to increase by 680 GW in the next five years.
If the 680 GW new capacity were solely provided by new 10MW wind turbines, 68,000 turbines would have to be built, or 204,000 blades, with a total weight of over 7 million tonnes. If all these blades were placed in a single line, they would stretch from the north pole to the south pole, illustrating the scale of recycling the wind turbine blades.
So, carbon fibre can make blades lighter, but how does that affect the embodied energy of a blade? For a 10MW wind turbine blade, carbon fibre accounts for just 13% of the blade weight2 and is mainly used in the spar cap structure, the blade's main load-bearing element. However, this material has the heaviest impact on the carbon footprint of a wind turbine blade due to the higher energy costs. The breakdown below shows carbon fibre accounts for more than double the equivalent CO2eq emissions than glass fibre.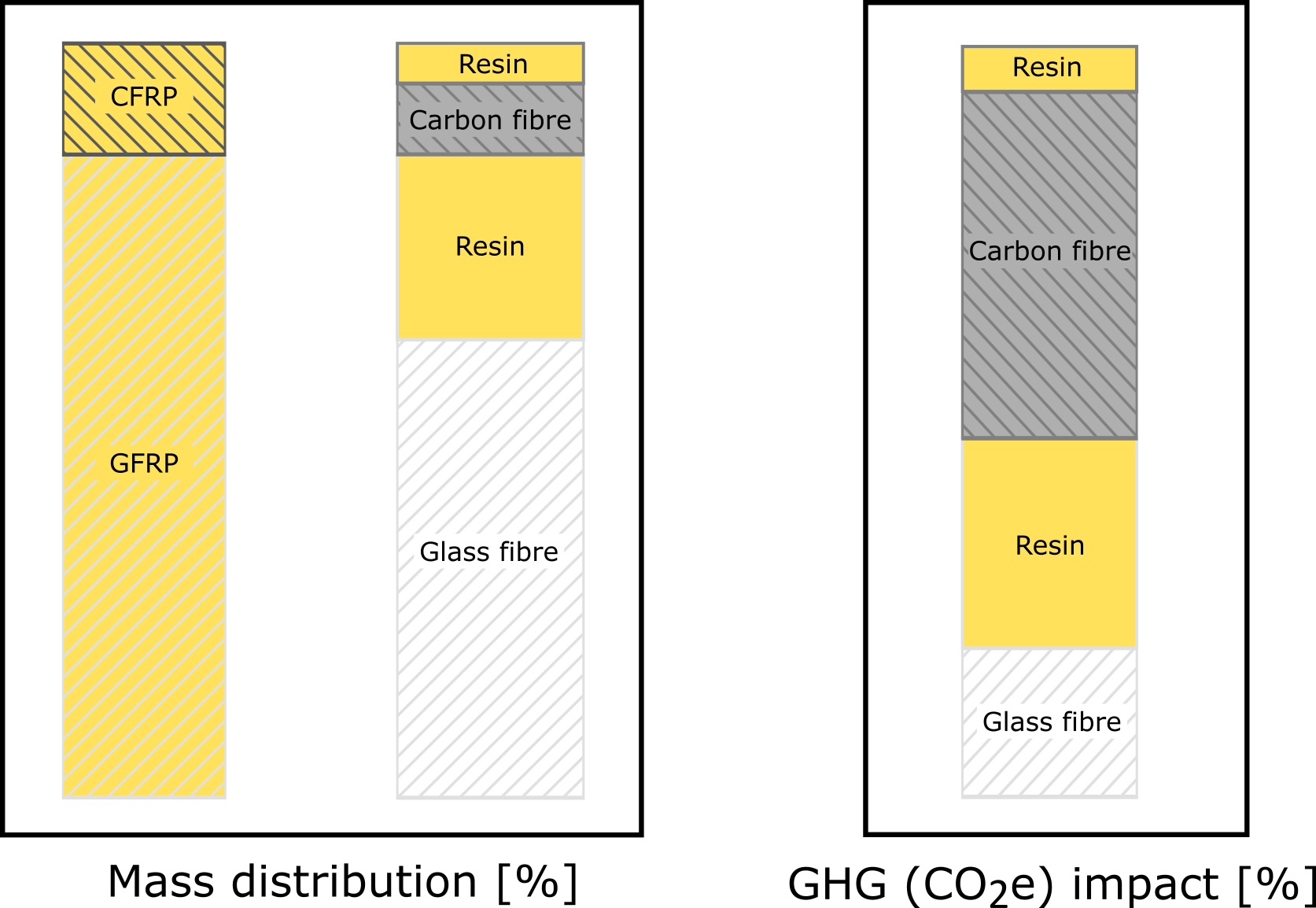 Weight distribution in comparison with GHG impact of main composite constituents in wind turbine blade
The most valuable material to recover from wind turbine blades thus clearly becomes carbon fibre. Currently, it is estimated less than 10% of carbon fibre is being recycled, largely due to the limited use cases for reclaimed carbon fibre. At Lineat, we take reclaimed carbon fibre and reprocess it into new highly aligned fibre tapes that maintain high-performance properties to replace virgin carbon fibre at lower cost and carbon footprint. By turning single-use carbon fibre into a multi-use material, we can truly create a net-zero future powered by wind energy and re-using materials.